P.O. Box 991
East Longmeadow, MA 01028
Phone: 413-525-0049

Pioneer Valley Rider Training offers motorcycle instruction and training to both the beginner and seasoned rider.
At their state of the art classroom in Westfield, the staff at Pioneer offer classes from from the the middle of March to the end of October.
Pioneer Valley Rider Training offers four motorcycle courses:
Basic RiderCourse
The Basic RiderCourse is the most popular program offered at Pioneer Valley Rider Training. In this 15 hour class, students learn the skills to become a safe motorcycle rider. Taught by expert instructors that are certified by the Motorcycle Safety Foundation, this program is so thorough, that upon successful completion, student can get a waiver of the motorcycle riding test given by the Massachusetts Registry of Motor Vehicles.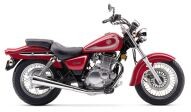 This program is perfect for the future rider and you don't have to have a motorcycle to partake in the program. Pioneer Valley Rider Training provides all motorcycles for students in the Basic RiderCourse.
"I took my bike for a ride and everything you taught me came into play. The turning of the bike came with ease and the stopping of the bike was no problem. The potholes on Riverdale Road were actually fun to maneuver around." J.A., West Springfield
Private Basic RiderCourse
The Private Basic RiderCourse is an intensive one day program that is specifically designed for those with busy schedules. Although Pioneer prefers all students enroll in the Basic Rider Course, this special program was developed for those students who could not enroll in their regular program. It is important to keep in mind that the one day BRC is very demanding and only suited for those students who can not participate in the Basic RiderCourse. This condensed course is best suited candidates who are in good physical shape and have at least some motorcycle riding experience.
"I want to give special recognition to our Instructor. Not only was he very knowledgeable and patient, he was firm and fair when he had to be. He was great to motivate us. I'm looking forward to many years of safe riding. I have referred several of my friends to the class." K.H., Greenfield
Post BRC Session
The Post BRC Session is provided for students who have taken the Basic RiderCourse and are looking for additional instruction. The program is tailored to meet your needs and is available on an hourly basis with a minimum of two hours of instruction. This follow up course is a great way to build both skills and confidence in become an excellent rider.
"I honestly believe that this course, taught by these relaxed and patient personalities, produces safer riders on the road, who take their acquired knowledge and make better decisions as a result. Please accept my sincere appreciation for the quality Instructors who helped me safely enjoy my motorcycle." D.F., Amherst
Experienced RiderCourse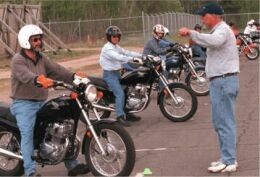 The final course offered at Pioneer Valley Rider Training is for the experienced rider. No matter how good a motorcycle rider you are there is always room to learn new skills and fine tune existing ones. This five hour program is designed with the seasoned rider in mind and offers expert instruction in all areas of motorcycle riding with a focus on safety. In addition, this program also allows riders to develop or refresh skills with a passenger aboard.
Qualified graduates of either the Basic RiderCourse or the Experienced RiderCourse are eligible to receive their motorcycle license or endorsement. This exempts these graduates from the Registry of Motor Vehicle road test.
Once you complete Pioneer Valley Rider Training's program, you receive an MSF course completion card that entitles them to a limited 10% discount on their Massachusetts motorcycle insurance.
If you know someone who would like to learn to ride a motorcycle, get them a gift certificate to Pioneer Valley Rider Training.
It's the gift that could save a life!