Motorcycle Show Videos
The Springfield Motorcycle Show is a high-end, top shelf event that brings together a great combination of manufacturers and retailers in an atmosphere of fun and enjoyment suitable for everyone.
Each year top quality videos are produced that recap all of the happenings during our two day event.
7 Hawks Media is a full video and production company that produces high quality, professional programing for personal, business and big events like the Springfield Motorcycle Show. We were thrilled to have Hermis Yanis Jr. and his staff cover the show over the past few years. We know we can always count on 7 Hawks Media!
Springfield Motorcycle Show 2015
Springfield Motorcycle Show 2014
Springfield Motorcycle Show 2013
Springfield Motorcycle Show 2012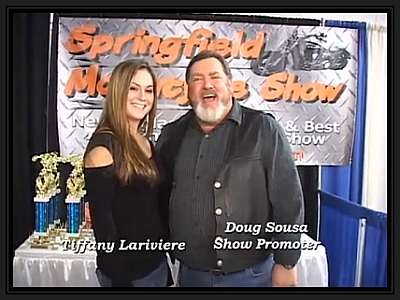 Video 2 with many more interviews including
Scott Porges, Michele Smith and music from Lindsey LaBelle
Springfield Motorcycle Show 2011
Video 2 from the 2011 Show
Cool Bike Rides made videos while at our 2009 and 2010 shows.

In addition to Cool Bike Rides, we also have a 2010 video by Angler Productions. You may recognize them as the producers of "The Bass Bureau...where the road meets the water" Cable TV Show hosted by Billy "Hawkeye " Decoteau.
If anyone else has video from the show, let us know and we will add it to our show videos page.