K. Peddlar Bridges

K. Peddlar Bridges aka The Roadpoet is a Rock and Roll Bikerpoet and Motorcycle Historian.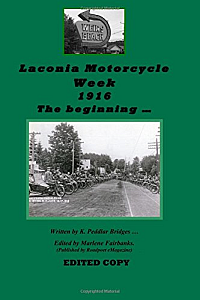 His Poetry echoes his 40 plus years of motorcycle riding and a life time spent on the road. His poetry is fast paced with quick shifts and with the snap of a five speed tranny going through the gears!.

Besides performing his poetry at the show, Peddlar also held a book signing featuring a number of his Motorcycle and Road related books including his latest book, "Laconia Motorcycle Week 1916, The Beginning …" Which gives a historical view of the Motorcyclists one hundred years ago and the world they rode in.

K. Peddlar Bridges is the Publisher and Editor of Roadpoet eMagazine, a longtime Senior Columnist for the Connecticut Cruise News Newspaper, The cable TV host for Roadpoets' Studio, featured in Beverly Mass. Ipswich Mass and Laconia NH and the former Poet Laureate for The Connecticut Super Sunday Expo ®.

His life and work can best be summed up in a few words. "It's all about the Road!"
Here is one of Peddlar's original pieces of work written in thanks to Doug Sousa of the Springfield Motorcycle Show

There's Nothing Like Being a Vendor at a Motorcycle Show!
By K. Peddlar Bridges
Aka The Roadpoet!


There's nothing like being a Vendor
At a Motorcycle show!

The Riding in and the Heading out
The set up and the breakdown

The clatter and the chatter
As the day begins

The clatter and the chatter
as the day ends

Tables displaying
Your product
Your pride

Tables displaying
your lifestyle
your ride

Motorcycles being shown
Sitting between display stands

The clamor of the crowd
Mixed with the music
Of Rock and Roll bands!

There's nothing like being a Vendor
At a Motorcycle show!

Folks dressed
in work boots
and jeans

Folks dressed to the nines

Folks you never met before



Folks you've known for years

Looking for the right vest
Looking for the right leather
Looking for the right gear!

Some folks talking
about the rides
they took last season

others are talking
where they're
Heading
this year!

Sturgis
Daytona
Laconia
Or maybe
Just a run down the road!

And you look to your left
You look to your right
You look to the vendor
Straight across the aisle

And as you all watch
the patrons
Drift by

You all know why …

There's nothing like being a Vendor
At a Motorcycle show!