Mustang is the world's leader in comfortable aftermarket motorcycle seats for all the motorcycle brands you love from Harley-Davidson® to Triumph. All Mustang seats are made in the USA.

Proudly handcrafted in Three Rivers, Massachusetts, since 1980. Mustang Motorcycle Products, LLC continues to be the leader in the design and fabrication of world-class motorcycle seats. Every seat starts with a passion for riding and a deep-rooted belief in the tradition of quality American manufacturing. Skilled craftsmen form each seat by hand using the finest raw materials available for unrivaled comfort and longevity.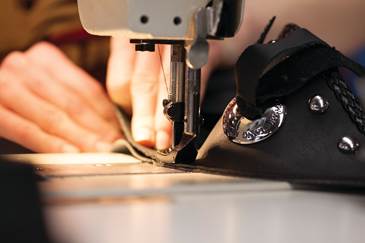 You should always enjoy your ride – whether five or five hundred miles. Mustang seats are meticulously designed so that the baseplate, foam and cover components combine to make the finest most comfortable seat possible. Baseplates – the foundation of comfort. Mustang seats are built on 16-gauge steel or marine-grade fiberglass baseplates – never plastic – for long-term durability and support. Foam – the heart of a Mustang seat. A proprietary formula, combined with decades of design experience, means no break-in, no sagging, and the best comfort available for both rider and passenger. Cover – beauty is only skin deep but the skin is what shows. Precision-cut, hand-stitched seat covers made from the finest materials can't be mass-produced – only an experienced stitcher can make a Mustang a Mustang.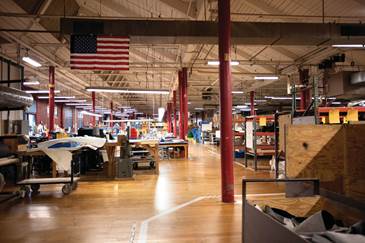 This is no small operation. Mustang Seats is a major manufacturing facility and each employee takes pride in every product they produce. Their focus is always on crafting the best quality motorcycle seats for their customers all across the country.
To learn more about Mustang's commitment to high quality craftsmanship, take a moment and watch the video below.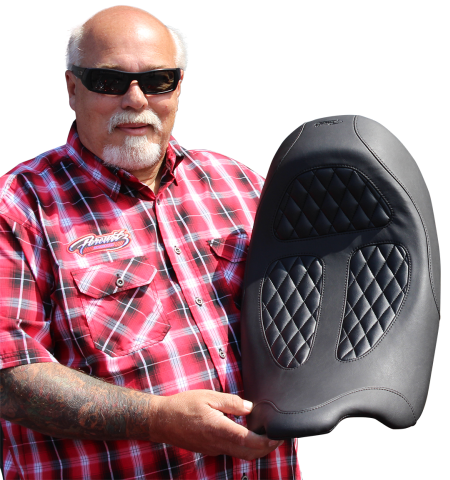 Quality components and masterful craftsmanship are what make this company stand out above the rest. Mustang takes pride in transforming raw materials into the highest quality finished seats available, so no mater what style ride you enjoy, Mustang has a seat to make your ride more stylish and much more comfortable!
Come down to the show to see the many styles and inspect their craftsmanship in person.
Recently, Dave Perewitz partnered with Mustang to create the Perewitz Signature Seat Series.
This local motorcycle legend has put his artistic flair into this special set of seats produced at Mustang. These and many others will be on display at the show.
On Saturday, Dave Perewitz will at the Mustang booth, so be sure to stop in and visit this industry icon.