OSEG is proud to have Hot Leathers at the Springfield Motorcycle Show! Hot Leathers always brings the very best motorcycle apparel and gear when they attend the show. They have been with us for many years and we can always count on them to bring the latest motorcycle fashions.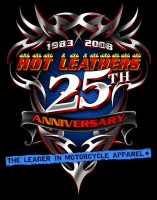 Founded in 1983, Hot Leathers has become the industry leader in motorcycle apparel and accessories. If you love going to bike rallies and motorcycle events, you have seen Hot Leathers before. They showcase their motorcycle leather goods at all the biggest events! With over 25 years in the business, Hot Leathers has been rated as one of the top 50 volume screen printers in America.
Hot Leathers is huge. With thousands of items listed on their website, http://www.hotleathers.com, this business carries everything an avid biker could want, from biker jackets and riding gear for women to motorcycle t-shirts and accessories.
Be sure to visit the Hot Leathers booth when you attend the Springfield Motorcycle Show. You can not miss their big show displays.