The Springfield Motorcycle Show is a high-end, top shelf motorcycle event that brings together a great combination of bike builders, manufacturers and retailers in a rocking atmosphere that delivers fun and enjoyment for the whole family!
This three day mega event is the ultimate one-stop shopping experience for both future riders and active motorcycle enthusiasts.
Our retail show is filled with the new bikes of the season, all of your favorite used models as well as the latest motorcycle parts for all the popular brands and of course a ton of cool bike accessories. In addition you can find all the best riding gear and apparel in a vast assortment of colors and sizes.

We are now heading into our 9th year for the Springfield Motorcycle Show and as you can see, our new show dates have been selected, so mark your calendar for January 17-19, 2014.
As we approach 2014, we will update our site with the new season's content. To give you an idea of the types of features you can expect when attending one of our shows, we have left our content from last year's show.
_________________________________________________________________
All of the information below is from the 2013 Springfield Motorcycle Show
_________________________________________________________________

SMS Special Guest: Ron Finch
Look who's riding into the Springfield Motorcycle Show! IIt's not often that you get to meet a living legend. We are so proud to have Motorcycle Master Ron Finch as our 'Featured Show Guest'.
For over 45 years, Ron has been building some of the worlds greatest and most 'artistic' custom motorcycles!
With limitless creativity and a keen eye for turning metal into fine art, Ron is known throughout the world as one of the very best. His creations have been featured in hundreds of magazines, several art museums and at motorcycle shows around the world.
You may have seen Ron on TV during Discovery Channel's "Biker Build Off." He's also been on the Speed Channel, National Geographic and TLC. Ron Finch will soon be on the Travel Channel in a show called "The Edge of America," series premiere Tuesday, January 22nd at 9/8 C. Journalist Geoff Edgers take a ride in "The Outsider" while he was at Catskill Mountain Thunder last September!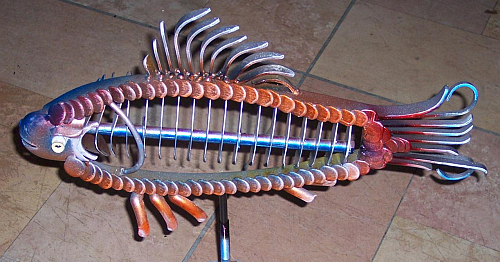 METALife
Now's your chance to meet Ron and find out about his latest creative outlet. He calls it METALife. You will be amazed by these Incredible metal sculptures that only the creative master himself could dream up. Don't forget to bring your camera. This is a very special show guest for sure!
Come See Odin's Axle
Big news! Odin's Axle will be on display at the show!
This historic bike built by Ron Finch set the wheels in motion and started the custom motorcycle craze. Motorcycle World named Odin's Axle, "Best Custom of the Year." Find out more about Odin's Axle ... and be sure to read the back story on Odin's Axle and how it was saved by Donna and Darryl Smith of Rochester, New York!
Just one more reason to make sure you hit this year's show and we are just getting started! Be sure to keep an eye out for our TV Spot. Shown on right.
2013 Bike Competition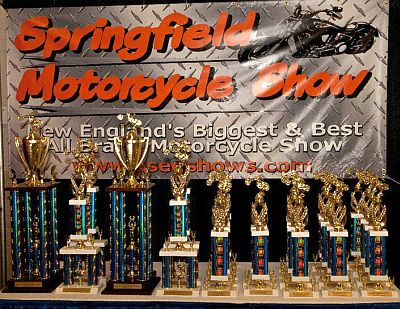 Each year the motorcycle show is filled with excitement. A major crowd pleaser is our annual bike competition. Get this year's competition form, print it out and be sure to enter.
This highly anticipated event draws bike enthusiasts from all over. Participants enter for cash prizes and the honor and bragging rights associated with winning the Northeast's Top All-Brand motorcycle event! This year's competition is sponsored by the Haymond Law Firm.
The motorcycle competition is judged by a select panel of industry judges as well as the public under the "People's Choice" category, so come down to the show, see the bikes and vote for the winner!
2013 Best of the Best Build-Off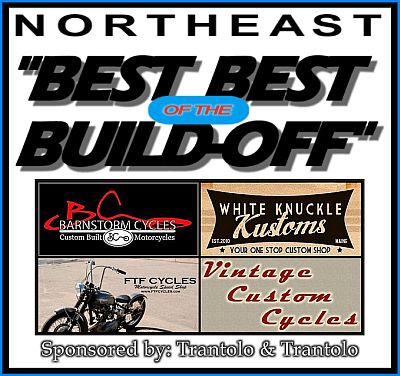 It's back ... The Northeast "Best of the Best Build-Off!
A huge success in it's inaugural year, we are exciting to be doing it again. This special motorcycle event, sponsored by Trantolo and Trantolo, brings together four top motorcycle shops in a head to head competition where only one will come out on top. Who will be the "Best of the Best?"
The competition is going to be strong. We have a great group of talented builders taking part this year. Starting us off is Barnstorm Cycles from Spencer, Mass. Next up is White Knuckle Kustoms from Windham, Maine. Then we have FTF Cycles from Randolph, Mass and last in the lineup is Vintage Custom Cycles coming down from Sandown, NH.
This event is in it's second year and we expect the competition will be just as strong as last year.
Four great builders - who will be called to the main stage and honored as the Northeast's "Best of the Best?" Come to the show and find out.
Indoor Motorcycle Safety Poker Run
Ready to have some fun and maybe win a prize? Get in on the Motorcycle Safety Poker Run!
That's right, the Indoor Motorcycle Safety Poker Run. This is a special FREE in-show participation event.
Attendees can win a $250 gift Certificate to Hot Leathers, a Gift Certificate to Pioneer Valley Rider Training, and other great gifts.
If you would like to participate in all of the fun, be sure to hit the First American Insurance booth as you enter the show. There you'll be able to get your poker run card and get rolling! With card in hand, you'll want to make your next stop to the Massachusetts Motorcycle Association booth and the fun keeps going from there.
Don't rush off too fast though. You'll want to make sure and see Progressive's "Flo Flyer."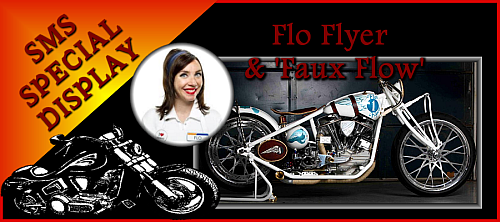 This spcial display will be on exhibit at the First American Insurance booth all three days of the show. Come see Progressive's "Flo Flyer."
The "Flo Flyer" is a one of a kind motorcycle made by Sucker Punch Sally's and used in Progressive's TV advertising by the character "Flo."
As an added bonus, you can also see First American's own "Faux Flo," Jennifer Dolittle, who will be on hand to pose for pictures with the motorcycle.
While you are at First American's unique display, be sure to grab a card and get in on the Indoor Motorcycle Safety Run.
This special in-show event is open to all attendees.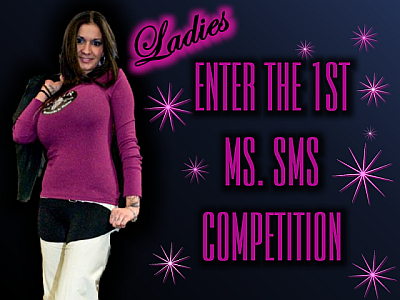 Ms. SMS Competition
Another last minute surprise! The Ms. SMS Competition! We will be holding this special contest on Friday Night, right after Bad Habit finishes their first set. This fun filled event is sponsored by Catskill Mountain Thunder. With $200 in cash for the winner, we expect many ladies to be on the Main Stage. Ladies bring your leathers, bring your attitude, and expect a wild crowd!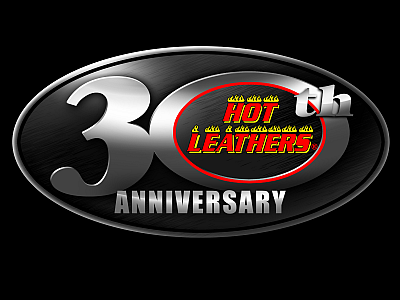 As you can see, there is a ton of things to see and do while at the show and we are just getting started!
Congratulations Hot Leathers on 30 years of serving the motorcycle community. It's your dedication to providing motorcycle enthusiasts with the very best goods for the active rider, that has propelled you forward through all these years and we are confident that you have many many more to come.
For show goers, you'll want to get in early, because Hot Leathers is going to have a special grab bag for the first show attendees. Being it is their 30th Anniversary, it's sure to be good and you'll want to be one of the lucky ones and get this special freebie from them. Once you have your bag, it's time to hit the show floor!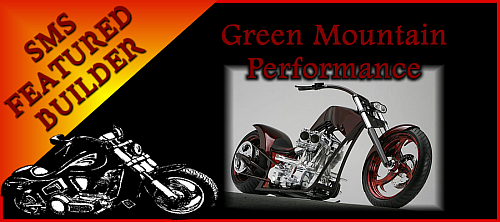 We welcome Featured Builder, Green Mountain Performance to the Springfield Motorcycle Show!
Green Mountain Performance is a rod and bike shop located in Mendon, Vermont that specializes in unique builds that make heads turn.
Sisco is the creative genius at Green Mountain Performance. He can transform a design he sees in his mind into an elegant piece of art that serves both form and function. This can be seen in "Calgon," his personal build and a true work of art.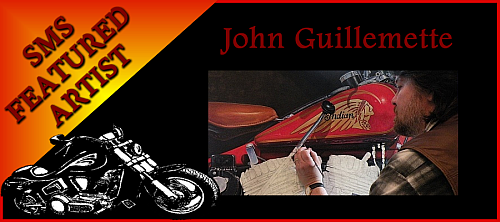 Featured artist John Guillemette will be working on his newest painting at the show. John is a well known motorcycle lifestyle artist who has received much acclaim for his motorcycle and chopper themed oil paintings.
John's paintings are so realistic, it is amazing the level of detail he can bring out in his work.
His art has been featured in numerous motorcycle magazines and can be seen at the Legend's Gallery in Sturgis, SD. Come down to the show, meet John in person and see his latest creations.
Shovelhead
That's right, Shovelhead will be performing LIVE on the Main Stage at the Springfield Motorcycle Show!
Thanks to our generous sponsor, Trantolo & Trantolo, the halls will be rocking with original tunes from this four member classic rock band.
Dave O'Hagan and Mark Sadler on guitar, Jim Lawson on bass and AJ at the drums. it's going to be a rockin' good time.
Shovelhead loves to perform and knows how to entertain the big crowds like those during bike week at Laconia. These guys live for Hard Drivin' rock & roll.
This is your chance to hear Shovelhead LIVE at the Springfield Motorcycle Show, it's going to be an incredible rock music event.
In addition to Shovelhead, we also have two other great musical acts hitting the Main Stage. Be sure to catch Bad Habit playing original classic rock and Man the Builder with alternative rock!
All weekend long there will be events taking place on the Main Stage, so be sure to get our programing schedule.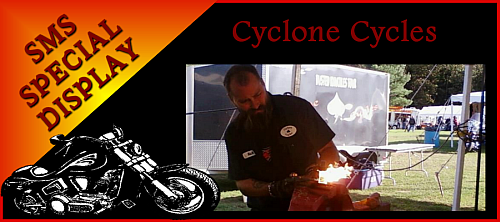 Another great display will be at Cyclone Cycles. Watch as Rick Beauregard demonstrates techniques live in his high energy motorcycle build show.
This is a great opportunity to see an amazing builder work his craft right at the show!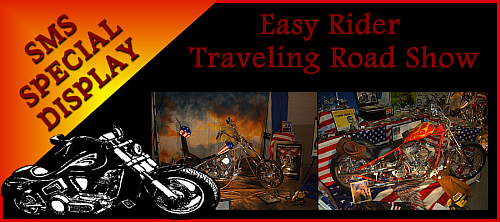 Another crowd favorite is the Easy Rider Traveling Road Show. In this special display, you can see a real Captain America bike and Billy bike. These two classics styles of old school bikes were made famous during the cult classic film, Easy Rider. Come see the bikes along with a huge collection of movie memorabilia.
The Haymond Girls
The Haymond Girls are coming to the Springfield Motorcycle Show.
The girls have developed a huge following of fans. You'll find them at area bike rallies, shows and charity events representing the Haymond Law Firm and spreading the word about the joy of riding and being a part of the motorcycle community.
Ask them and they will tell you they love their job. So, be sure to stop by the Haymond Law Firm booth to meet the Haymond Girls!
Antique Motorcycle Club of America
Head over to the Antique Motorcycle Club of America booth and take a step back in time. There you will find a fantastic display of motorcycle history. The AMCA is dedicated to antique motorcycles. They define an antique bike as any one that is at least 35 years old. The organization has over 225 members and once you see their booth, you'll easily understand why they love these older bikes.
Be sure to stop by the AMCA booth on Saturday and see Rich Correia! Rich will be at the booth with the 1925 Henderson DeLuxe he rode during the 2012 Cannonball race!
Rich Pitoniak
Come meet Rich Pitoniak of Pitoniak's Custom Cycles. Well known in the motorcycle industry, Rich will be with us with his Painkiller motorcycle. Painkiller was recently featured on the pages of international motorcycle magazine: Extreme Bike!
Along with Painkiller, Rich will also be bringing Layla, a motorcycle that can be seen in the pages of IronWorks.
Don't bother looking for the issues, you can see these bikes in person right down at the show. Here is your chance to see the motorcycles and meet this well know builder in person on the show floor.
Ride a Harley-Davidson® at the show
Harley-Davidson of Southampton is bringing a special event to the Springfield Motorcycle Show called JUMPSTART.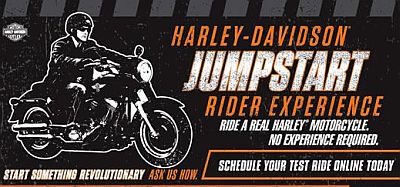 Never taken a ride on a Harley-Davidson? Now's your chance
... even if you have never been on a motorcycle before!

It's called JUMPSTART. You can ride a real Harley® motorcycle!

It is the perfect way to show future, new, and experienced riders what an authentic "Harley," riding experience is all about. JUMPSTART shows you how much fun it is to ride a Harley-Davidson®, so if you are ready to make your dream of riding a Harley® a reality, head over to the JUMPSTART experience at the Springfield Motorcycle Show and meet the folks from Harley-Davidson of Southampton!
So much to see and do.
These are just a few of the highlights for this year's motorcycle show. We have a great event lined up for 2013, so come on down to the Springfield Motorcycle Show. It will be three full days of motorcycle fun!
We'll see you at the Springfield Motorcycle Show on January 18-20, 2013 at the Eastern States Exposition, 1305 Memorial Avenue, West Springfield. You know the place, it's the Home of the "Big E" It is going to be a great weekend filled with fun and excitement.